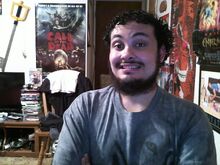 Other TXKHotsauce streamers call him "Rex".
His screen name was previous "Meximelt" or "Mexi".
In September 2015, the TXKHotsauce Twitch channel reached 350 subscribers during Rex's Mario Maker broadcast. CanadianAllStar helped him achieve this by having people subscribe to get Rex to play his or her level.
Loves Mario Maker levels with springs.
Fav game: Undertale
Pro tip 231231 Always treat it like you have over 100 people watching even its its slow. KEEP THAT MOMENTUM GIRL! most of all have fun ;D
The saws are coming out of the woodwork!
Streaming
Edit
When it comes to watching Rex stream Super Smash Brothers for Wii U, its strongly suggested that the viewers refrain from using headphones due to Rex's uncontrollable yelling out of frustration and/or excitement because the volume spikes could cause hearing loss. Rex a great man but can be a very loud great man! Rex's main characters in Super Smash Brothers for Wii U are Duck Hunt and Ryu, he also has a pocket Mario and Kirby. If there was a way to describe Rex's relationship with the game it would be casually-competitive as he loves a good challenge but he doesn't have the dedication that someone such as TSM Zero (the #1 Super Smash Brothers for Wii U Player) has.
Rex also loves having conversations, and just having a good time in general.